Control Performance Report
This tool generates a report on control performance from process data available from process historians.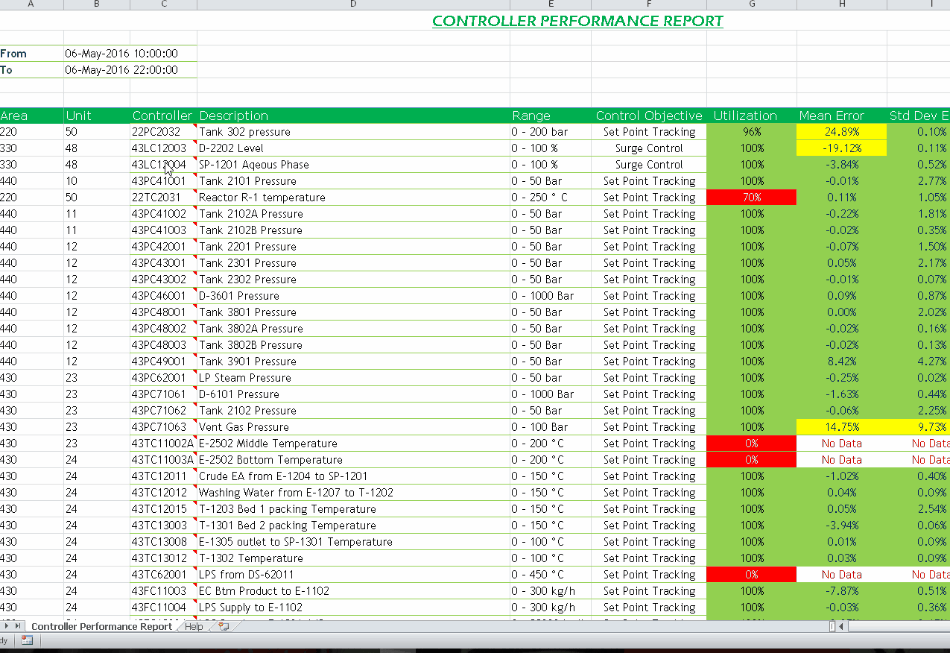 Features
Easy to setup, use and interpret


Metrics can be directly related to the financial performance of the plant or process unit


No expensive additional infrastructure required - data from a process historian is used.


The same report can be used for all control algorithms, the same report can report on PID, MPC or other control algorthms such as fuzzy logic or neural networks.


All metrics are reported as % of the tag span allowing perforamance to be compared on the same basis


No limit of number of controllers


Report is generated in Excel format, allowing easy analysis and transfer to other reports or dashboards


Report include a "Help" sheet that explain the metrics and the colours used.


Using this tool
This tool is very easy to setup and use.
Instructions to use the tool are provided on the first sheet of the Excel file. See screenshot below.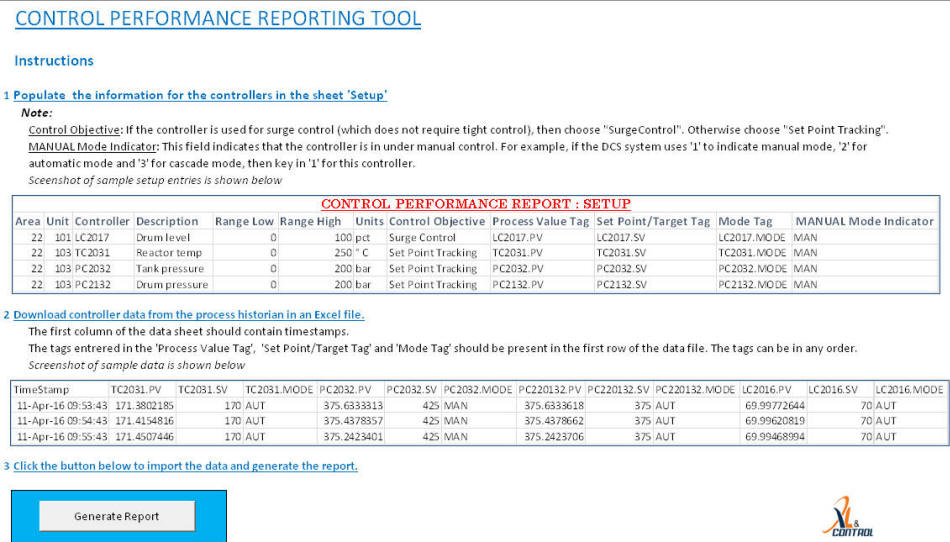 Once the 'Setup' sheet is populated, clicking the "Generate Report" allows the user to choose an Excel file containing controller data and generate the report.
Note that the user must have write access to the folder in which the report generator file is stored.
This tool requires Excel 2010 or later.
Purchase
Price: US $ 249 (Licensed to a single user)
Payments can be made using credit/debit card or PayPal. Payments are processed by Gumroad.
Purchase
For other licenses such as site wide licenses, please email
sales@xlncontrol.com
for a quote.
Refund Policy
We are confident that you will find this tool very useful. If, however, you are not satisfied with it for any reason, please email sales@xlncontrol.com within 30 days of the purchase for a full refund of the purchase price. A short note describing the reason for the disappointment is optional, but would be appreciated.